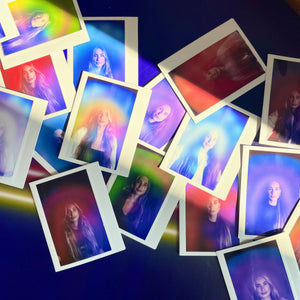 If a picture is worth a thousand words, your aura photo tells a far longer tale. From moment to moment, your energy shifts revealing new truths about your past, present and future.
Aura photography is a chance to pause, reflect and decipher your chakras. These images are able to capture both the physical form and the mystical spectrum within us all. Rose Aura proudly uses the highly-specialized AuraCam6000 and FujiFilm FP-100C or Instax Wide to provide mobile film aura readings.
Rose Aura offers public or private readings across the Greater Toronto Area. Our mission is to provide you with the best possible portrait and reading of your aura based on a high understanding of energy, the chakra system, and crystal healing. New dates are released on the last Monday of each month at 11am!
$50-$100 Per Photo and Reading!
We offer the option to have your aura photo taken with FujiFilm FP-100C or Instax Wide; $100 per FP-100C photo and reading, and $50 per Instax Wide photo and reading. You can read more about the different types of film on our FAQ page!
Location
703 College Street, Toronto ON
Entrance on Montrose Avenue south of College on the west side of the street
By appointment only